---
Click here to open the Year In Review 2022.
---
Event Sponsorship Information
Upcoming Sponsorship Opportunities: 
Halloween Hollow, Friday-Sunday, Oct. 7-9
Click here to go to our Sponsorship page.
---
Splash Park Information
Click here for more information.
The Splash Park is closed on July 4.
---
Now Hiring
Click here for more information and an application. 
---
Click here to open the Year In Review 2021.
---
Maintenance Building Renovation
Greg Vitale, Executive Director of Mokena Park District, is happy to announce that construction has started for the Maintenance Building renovation project. The existing building has remained unchanged since we operated only 4 parks and very few recreational facilities. As our community has grown over the years, so has our park district, with nearly twenty-four parks and several recreational facilities. This new addition will help to accommodate the staff, vehicles and equipment necessary to maintain these parks and facilities for years to come. Completion of this project is expected by Spring 2022.
Visit our website occasionally for any updates we may have about the project.     
---
Whisper Creek Park
Whisper Creek Park is expected to be completed late fall 2021.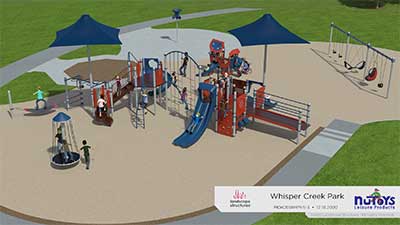 https://www.mokenapark.com/news-and-events/latest-news/default.aspx